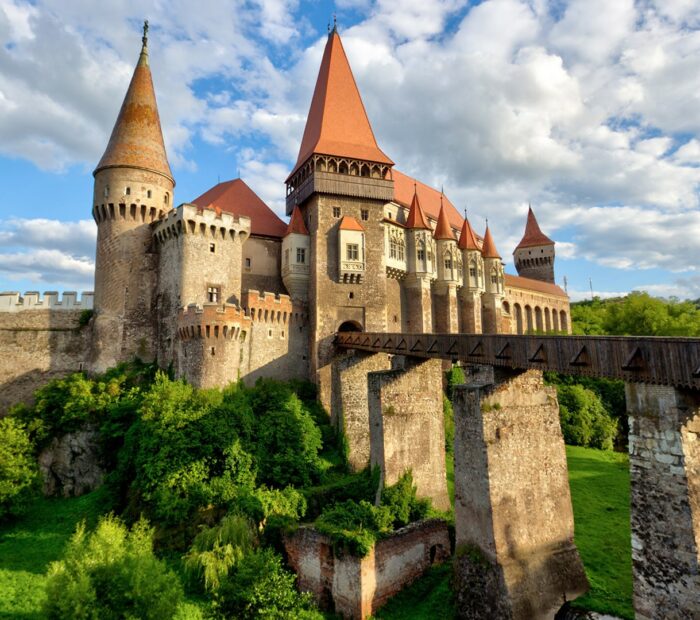 DISCOVER ROMANIA WITH US….
Heaven on Earth – this is Romania. Full of legends and stories, with traditions preserved over centuries, Romania amazes and fascinates in the same time. Whoever got to know it, will always return; who doesn't know it yet, would better visit it soon.
Land of fairy tales and legends, voivodes and princesses, nature blessed with love and incomparable tenderness, traditional songs, shepherds who climb the sheep in the mountains and the smell of freshly mown hay. Raw green lands, giant wood gates carved with traditional motifs, and villages ruptured from the fairy tales will make you wish come back whenever you get the chance. The richest fauna of large carnivores from whole Europe, the Danube River that winds among the mountains or the wilderness of the Danube Delta with its thousands of living species, all of these will make you speechless. Romania should not be missing from anybody's beautiful memories. Flavoured and unique, Romania remains a land where culture and traditions are still alive.
Our story started out of the big love for the unknown and less discovered regions of Romania. First we helped our friends to discover the stunning and picturesque beauty of this wonderful country. Additionally, we continued our mission with people willing to meet us, to travel with us and to discover their country in all splendors, organizing guided tours nationwide. Currently, we decided to offer the opportunity to all willing people from all over the world to discover Romania's authentic beauty.
If you appreciate select companionship, high standards, professional personnel, good food, clean rooms and last but not least if you want to live a unique experience and not just make a trip, then we invite you to start together with us the most amazing adventures that Romania can offer. We'll be glad to have you with us and guide your steps in the adventure of your life!
Maramures and its traditions, the fascinating Bukovina, the Danube Delta and the largest biodiversity in whole Europe, the old Saxon villages and their stories lost in time, the Danube River that flows among the mountains on the Danube Gorge or the Covasna and Harghita County, where the wild animals walk freely through the woods. All these wonders are just a step away from being discovered together with us!
We invite you to explore carefully all the guided tours we are offering and to choose the one that suits you best!